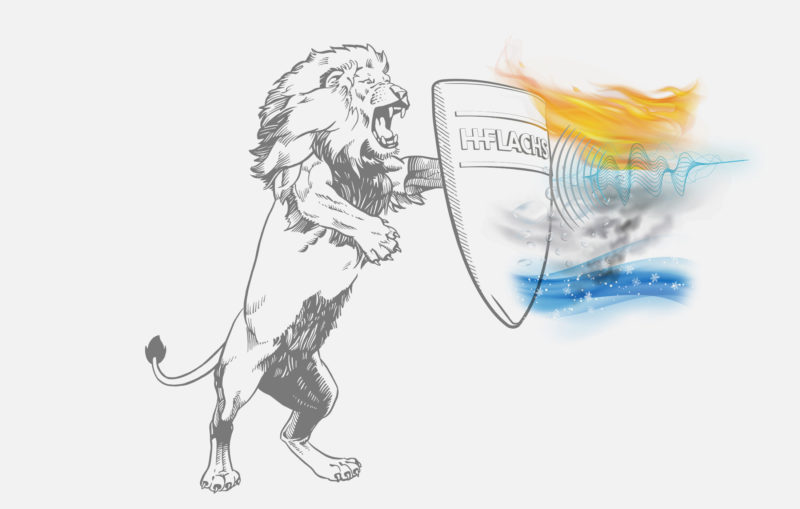 "The precisely fitting, extraordinary materials and patterns of H-Flachs, combined with your craftsmanship, will optimally meet your customers' design wishes."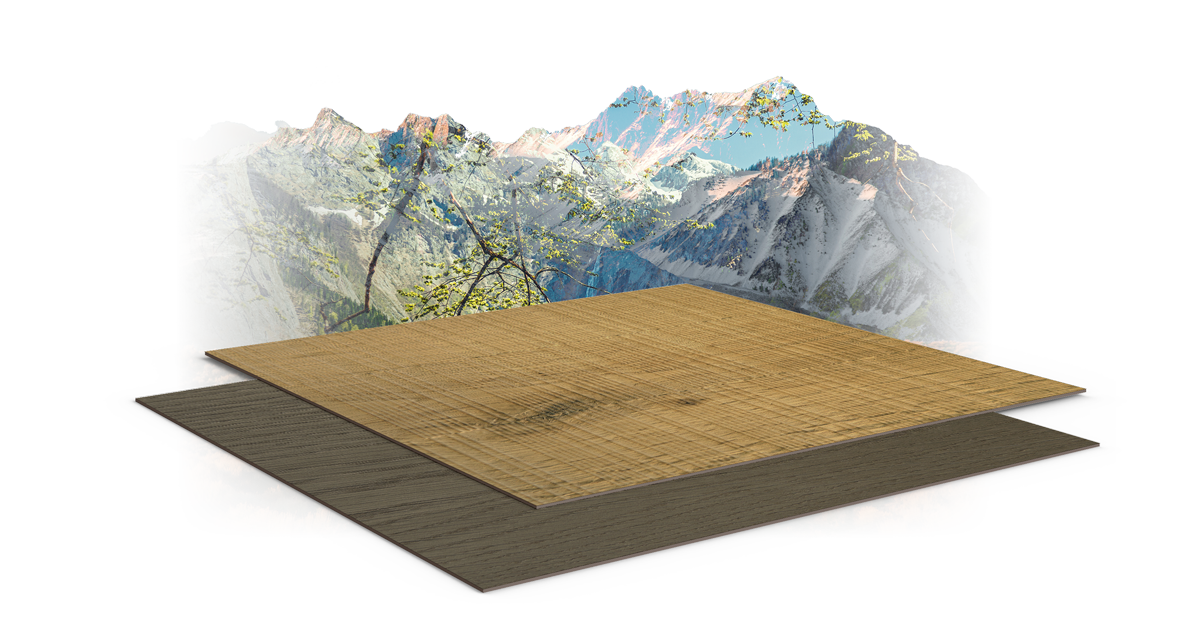 Unikum is our new composite material made of real wood veneer and fleece. In contrast to conventional veneer, it is characterized by simple processing and handling and can easily be used in addition to flat surfaces for irregular, multidimensional shapes (for example in furniture, door, automobile or aircraft construction).
Foaming seal
based on graphite
The H-Flachs seal expands in a fire to at least 11 times its original thickness. Flames, hot gases and smoke cannot penetrate. Flexilodice can be used as a fire protection gasket for many systems such as doors, partitions, shutters, cupboards etc.
Unlike conventional seals, the product is not only available in black and red, but also in brown(e.g. for wood-veneered doors in oak) and white. The seal adapts completely to the color of modern doors.
The product can be used as a fire protection seal for many systems such as doors, partitions, shutters, cabinets etc.
Our highlight for you
The seal is available as a multifunctional co-extruded profile. You get a combination seal for sound and fire protection, save one work step and use only 2 mm instead of the usual 3 cm thickness of a combination seal!
The H-Flachs decorative strips are a handy, easy-to-use design element that you can use individually.
The product can be used for all special doors, doors as well as in furniture and in shop fittings.
Up to now, you have been familiar with trim strips for all types of doors made of aluminium or matt or brushed stainless steel.
Now you can get your desired decor from H-Flachs, for example as a wood reproduction. The colour of the cores matches the surface. The door looks "as if it was done from one piece".
Regularly produced decors are aluminium, black matt, walnut and oak in 8×2 millimetres.
Other variants are alternatively with bridge / speargun profiles available.
Multi-layer microlaminate
H-Flachs microlaminate is created from the continuous pressing of layers of paper with hardening, heat-resistant adhesive. The microlaminate surfaces are resistant to solvents and heat.
The product is suitable for all furnishings, special doors, standard doors and profiles.
In addition to classic white, you get your desired decors from H-Flachs also as wood or fantasy decors.
Our highlight for you
H-Flachs white in 3Deep surfaces with vertical or horizontal patterns. This allows you to optically align door leaves and frames with the same structures.

The product is suitable for all furnishings, special doors, standard doors and profiles.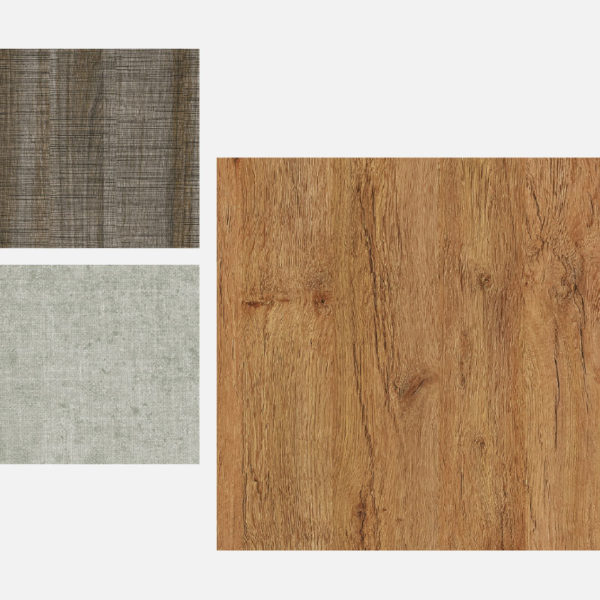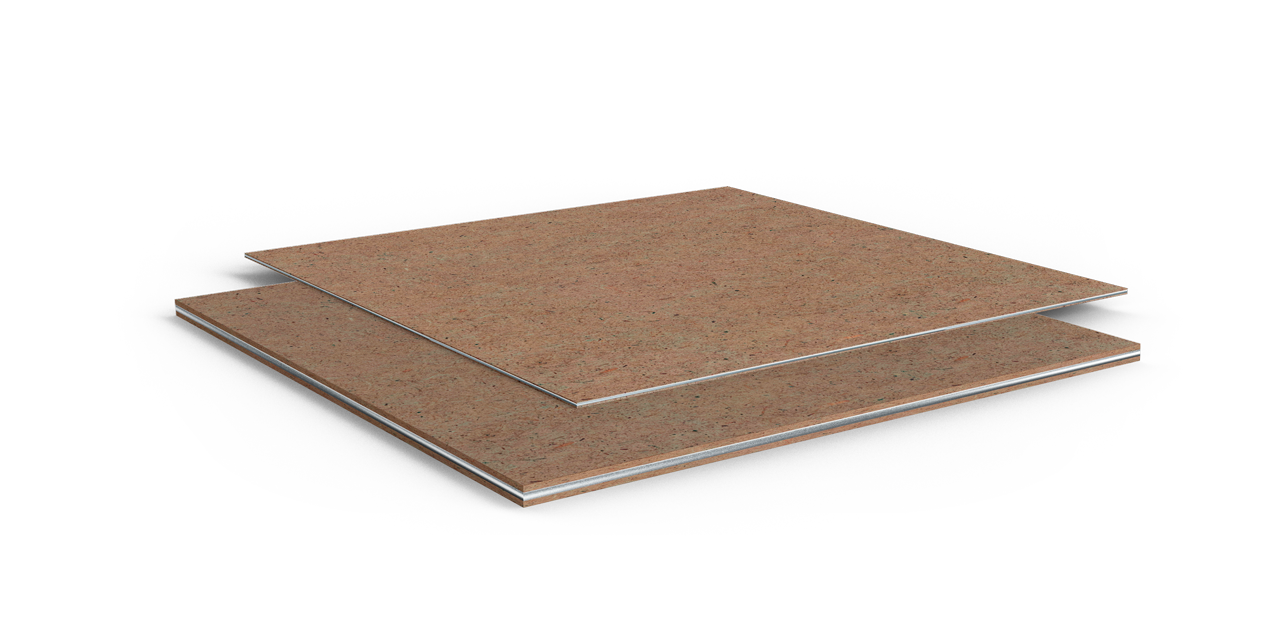 Klimadecks are composite panels made of HDF panels with an aluminum sheet as the middle layer. They are used in the construction of interior doors with climate class requirements, for example in apartment doors. They contribute to the fact that doors warp to a lesser extent when exposed to differential climate.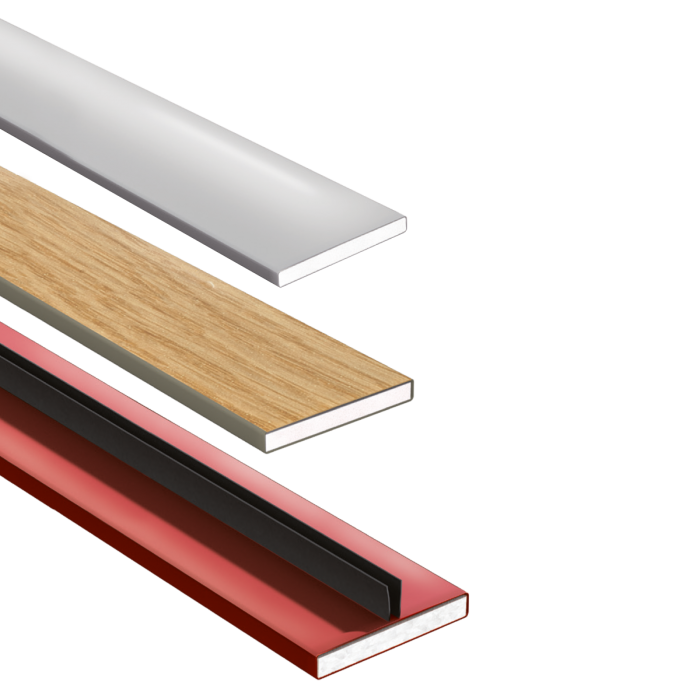 The intumescent fire seal Palusol inflates to at least five times its initial thickness in the event of a fire. It is encased in a thermoplastic profile that extends the service life of the foaming seal because it protects against humidity and carbon dioxide and thus against weathering. The reactive material is used for various fire-resistant systems and is available in several variants. The design as a co-extruded profile enables effective sealing against cold smoke and improves sound insulation.
Expansion pressure: up to 1.5 N / mm²
Expansion activation temperature: between 100 and 120 ° C
Lasting effectiveness (up to 40 years)
Do not use at temperatures above 40 °C
We recommend WASSERDICHT PALUSOL EF for use in sustained high humidity or in contact with water or steam
Interdens is an intumescent material made from ammonium phosphate which protects and enhances the fire resistance of wood and wood-based materials. When exposed to fire Interdens expands to a multiple of its size. It hermetically fits into the gaps formed by distortion and prevents flames, smoke and gases between two construction components. It can be used for partitions, borders of door glazing or for the insulation of locks and fittings.
The reactive material is available, for example, as lock case insulation, as a stamped part for door closers (for example DORMA ITS 96, GEZE Boxer or ECO SCHULTE Multi-Genius) or as a complete insulation set for door closers.
Intumescence / expansion begins at 180 °C
No expansion pressure
Expansion coefficient: > 40 x initial thickness (at 350 ° C after 20 minutes)
Available in flexible or semi-rigid form
Long-term efficiency: unchanged even after 10 years of storage in a dry place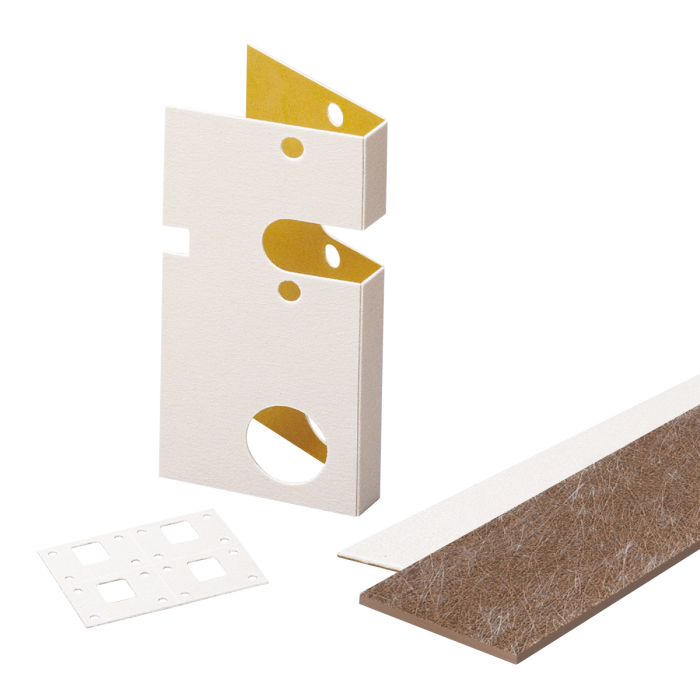 Morton is a laminated composite mad from glass fabric and phenolic resin, which thanks to its fire-resistant characteristics is used for thermal breaks when installing fire resistant doors and partitions, and in kilns and paint booth.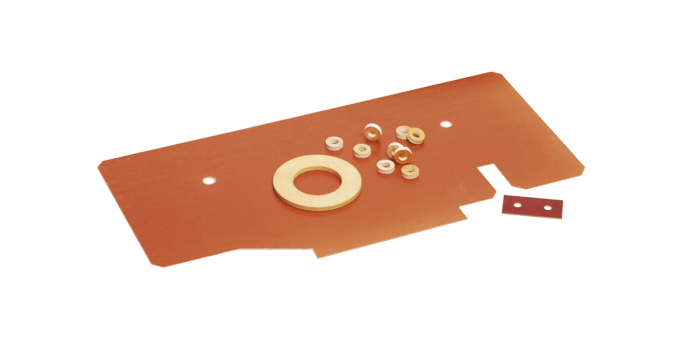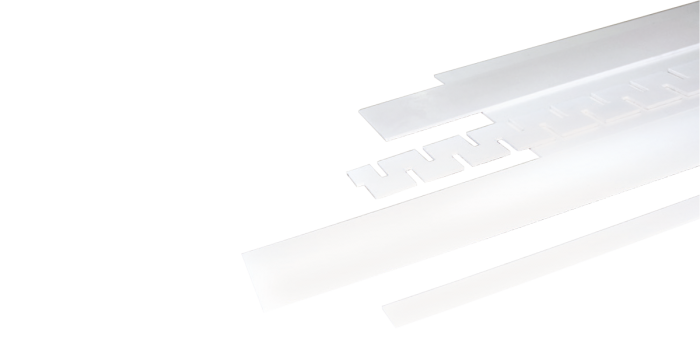 Polyodice Insluation Board
Polyodice is a composite based on glass wool and an unsaturated polyester resin that has good fire resistance. It is used to interrupt thermal bridges when installing fire protection doors and partitions.